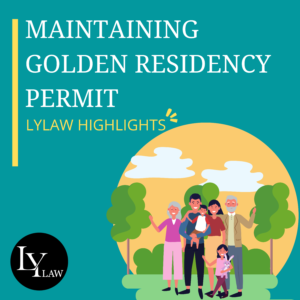 The UAE Golden Visa, which is issued for 10 years, can be maintained for the entire 10-year period, provided that certain conditions are met. 
Specifically, to maintain UAE Golden visa, the holders: 
Must be

able

to

support

themselves

and their

family members,

who are

sponsored

by them, throughout the

period

of their

residency

. 

They must, also,

maintain valid

health insurance,

throughout the entire

period

. 

And,

depending

on the

category

of the Golden visa, they

may

have to

continue

to

fulfill

the

conditions

,

in full or in part

, which

qualified

them for the Golden Residence Permit, at the

outset

. 
In general, the ICA, which is the UAE governing Authority over such matters, may issue decisions, setting out specific conditions, required for Golden Residency holders to continue to maintain their residency,
This is in line with Article 4 of the Annex to the UAE Cabinet Resolution No. 65 of 2022. And the corresponding regulations. 
Golden Visa UAE Benefits - FAQ