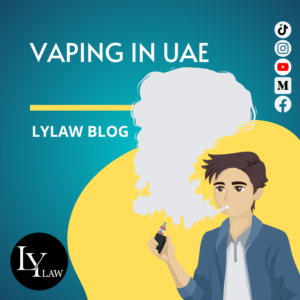 Vaping in the UAE is treated, more or less, the same way, as smoking, be it e-cigarettes or regular cigarettes.   
As such, vaping is subject to the same laws, which are:
The UAE Tobacco Law, No. 15 of 2009 (On Tobacco Prevention).
As well as the Cabinet Decision No. 24 of 2013

, which are the Executive Regulations to the main law.
In relevant parts, vaping is strictly regulated and is subject to a number of limitations.

For example, the legal age for vaping is 18. Vaping indoors is not allowed. And neither is advertising of vaping or its products. 
Furthermore, the are specific places where vaping is not allowed, such as: 1) schools or educational institutions, 2) places of worship, 3) health facilities, 4) sports establishments, 5) public transport, 6) malls and shopping centers (except is the designated places), and 7) cinemas, places of entertainment, and theatres. (Article 11 – Regulations).
Notably, also, as per the laws, vaping is prohibited in the car, in a presence of a child younger than 18 years old.